Details – DVD set SpeedPainting No.1
Learn to paint fast in oil or acrylic
After thousands of paintings, Len Hend has developed a series of painting techniques that he shares with you in these outstanding DVD painting lessons .
You will learn the easy way to paint sky, clouds, sunsets, mountains, trees, grass, rocks, roads, water, reflections and more.
You will also learn to arrange objects and colors in your picture to pleasantly surprise the viewer and to amaze yourself!
Easy to follow step-by-step Tutorial DVDs, designed for beginners and those who have never painted before and wish to try there hand at painting Australian landscapes in Oils or Acrylic.
You will learn by watching, listening and painting along with Len. As you work you will automatically begin to understand what is meant by – tone, arrangement, perspective, how to catch the eye, balance and contrast.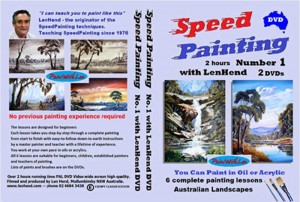 You will learn colour mixing, background colors, foreground colors, and why we use these colors.
This short video shows one of  the techniques you will learn.
2 DVDs – 6 full paintings – list of colours and brushes – paint in oil or acrylic.
NEW PRICE $29.50 includes post and package. Buy now

by Len Hend