Details – DVD set SpeedPainting No.2
How to paint fast to sell your paintings
The painting lessons contain valuable information even for artists already familiar with oils or acrylics .
Each DVD gives a full list of materials needed .
Learn to paint sky, clouds, background mountains, foreground mountains, background trees, foreground trees, grass, water, reflections, waterfalls, big gum trees, ferns, rainforest, sunsets, huts, rocks and more.
– Paint big or tiny pictures on almost any surface.
– No need for special brand or expensive paints or brushes
– All lessons have useful information for those already painting in Oils or Acrylics
– Each DVD contains a full list of colors and brushes used.
– Paint in Oils or Acrylics, Len's techniques can be carried out with any brand or type of paint.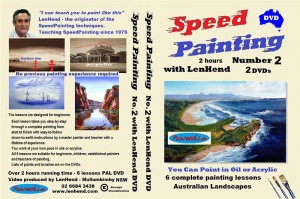 2 dvds – 6 paintings – list of paints and brushes – easy to follow step by step tutorials
Buy now
This video is the 4th exercise on DVD2  SpeedPainting No.2
by Len Hend