Australian Expat Building a House in Thailand.
A step by step guide showing how I built this house in Thailand.
The general building specifications for the house in Thailand are here also.
You do need house building experience to be the owner builder in Thailand.
My previous building experience comes from many years working on cottage and industrial building sites in Australia.
As an Australian old age pensioner, I live in Hang Dong, Chiang Mai, Thailand, on a retirement visa.
My Australian pension is channeled into my Thailand bank account.
I built the house in Chiang Mai for the family who will care for me in my old age.
If I become very old and demented, I believe I will be cared for better than the care I am destined to receive if I remain in Australia, and my pension money is helping worthy people.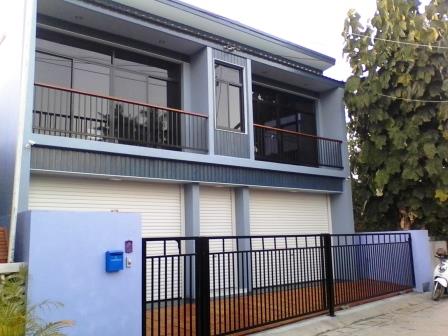 The family here are Thai buddhist and genuinely good and caring people, so my pension will support them well, until I part. Plus, living in Thailand is great as many people like myself are realizing.
If you are thinking of building in Thailand, this is my advice from experience.
On this house I worked as the supervising builder and physically as a trades person.
It is not necessary to do the physical work but I enjoy it and need the exercise.
The general rule in Thailand is that a foreigner cannot take a Thai person's job, I was not challenged by anyone about this, possibly because nobody was paying me to work.
There are standard procedures, laws, traditions and specifications which need to be observed and these are basically common sense matters. Some of the cultural traditions were unfamiliar to me and I will mention them.
Local government authorities did not come onto the site without my invitation, there is not the strict regulations that I've seen elsewhere, in fact there seems to be no governing body if you use common sense and don't cause problems for anybody.
The 220 volt electricity supply company made a brief inspection before upgrading the meter.
I can't speak the Thai language, things were usually sorted out as I know enough about building to see what needed to be done and because the other person has skills and knew what was needed.
My lady friend, Saloong, was great at sorting out who got payed and when, this is where you need a Thai speaking offsider, even if they are not a builder.
The total cost would have been about $60.000 Australian. That does not include buying the land or my personal labor.
The following links are things that you might need to know before building a house in Thailand.
Then we will look at the progressive stages of building the house – Including some pitfalls and mistakes that I made.
Cultural Considerations when Building in Thailand,
Employing Building Workers in Thailand – – – Having Plans and Specifications Drawn Up – – – Building Alignments in Thailand – – – Soil Testing Before Building – – – Preparing the Block – – – Fencing your Thai Block – – – Footings for a House in Thailand – – – Thailand Steel Specifications – – – Concrete for Foundations and Structure
Progressive Stages of Building The House
The land cleared and filled to street level. Fill the block.
A temporary fence placed around the block. Fencing.
The temporary power supply pole erected. Power supply.
Plans for the house drawn up. Plans and engineer.
The profiles put in place, alignments checked. Alignments and profiles.
Holes dug for septic. Septic system.
Holes dug and footings in place. Footings.
Posts formed and poured. Posts for foundations.
My cool air system installed. Cool air from underground.
Beams for ground floor poured. Ground floor beams.
Ground floor concrete poured. Ground floor concrete.
Posts to second floor poured. Concrete posts.
Beams for top floor poured. Top floor beams.
Top floor and stairs poured. Stairs and top floor.
Posts to roof poured. Concrete posts to roof.
Steel roof beams, rafters and battens. Roofing.
Facia boards and eaves. Cement sheeting.
Brick walls and window beams. Window and doorways.
Electrician. Power supply.
Plumbing. Plumbing and drainage.
Cement rendering. Rendering walls.
Painting inside and out. Painting.
Ceiling fixing. Gyprok.
Tiling. Floor and wall tiles.
Fitting aluminum windows and doors. Windows and doors.
Curtains. Drapery.
The party.
Browse the following pages