Australian building a house in Thailand.
A step by step guide for building in Thailand.
If you are thinking of building in Thailand, here is my advice from experience.
I build this house in Chiang Mai, Thailand for the family who will care for me in my old age.
As an Australian old age pensioner, I live in Hang Dong, Chiang Mai, Thailand on a retirement visa.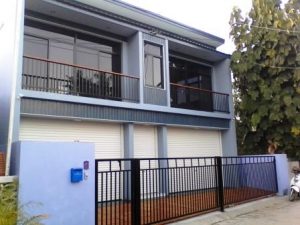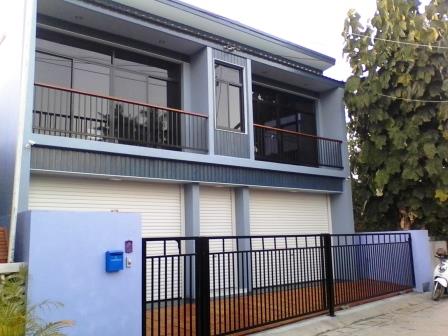 I worked as the supervising builder and as a trades person throughout the project.
The general rule in Thailand is that a foreigner cannot take a Thia persons job but I was not challenged by anyone about this.
There are standard procedures, laws, traditions and specifications which need to be observed and these are basically common sense matters.
Local government authorities did not come onto the site without my invitation.
The 220 volt electricity supply company made a brief inspection before upgrading the meter.
I am not a licensed trades person or builder, my building experience is from many years working as a sub contractor in NSW Australia.
You should realize that a foreigner cannot own land in Thailand.
Any person can take a 30 year lease on land.
There are a few options of how to acquire land, I will not go into it here.
The general building specifications for a house in Thailand can be found here also.
Read on –
An Australian can build a house in Thailand
I'm wanting to give you the 'how to build' side of it and I presume that you are a handyman or have a fare amount of building experience so you will know what I'm talking about.
Laws can vary, building specifications, soil types, work practices, building materials, wages etc. could differ in other parts of Thailand – I am in Hang Dong, Chiang Mai.
I worked as a builder and laborer on this house and was not challenged for being a foreigner working in Thailand on a retirement visa.
Don't use my information as 100% correct as your situation may differ. Check things out.
Here are notes to get you started
Ownership Generally – foreigners cannot own land in Thailand – they can lease land for up to 30 years, or form a company with the bigger percentage of shareholders being Thai citizens.
There are 2 common types of buildings – cheap with pre-formed concrete posts and brick walls between the posts or the more expensive and often 2 story with huge concrete foundations supporting concrete beams and floor. I built the later.
If the neighbors house is not too close you might drive concrete piers into the ground for footings.
Tradition Before building the property should be fenced. Traditional in Thailand.
A ceremony is held on a selected day when the first supports are being erected. Just go along with it.
Another ceremony when you move in. Usually with a big party.
If you move in before the house is finished – a small ceremony might be held soon after moving in.
Check with local people before removing trees or filling a well or old septic – there could be other odd sacred things to check before starting the building – draw a good sketch of the layout and show the local people.
Specifications – Roof can span to the boundary line.
Walls with windows should be not less than 2 meters from boundary.
Walls without windows should be not less than 300 mm from boundary (1 foot)
Distance from boundary and fencing rules, can sometimes be altered with signature from owner of neighboring property.
No waste or rain water to spill into neighbors property.
Septic tanks etc. can go close (or sometimes under) the building – this would greatly depend on soil type.
Septic is usually one big plastic drum and 2 round concrete wells about 2 meters deep and 900mm diameter – one concrete well for septic and the other for shower and kitchen
Ceiling height is usually 2.7 meter – 9 foot – but might be lower when actual ceiling is installed. (my concrete floor to under beam was height 2.8m.)
Better to keep posts or piers at 4 meter maximum spacing.
There are 2 common types of cement and concrete – hard for piers and beams and softer for slabs.
The Portland cement is for hard concrete – maybe called 'red' cement – is in a red bag.
The softer cement is often in a green bag.
Many other cement products come in red or green bags, not just the 2 common types.
There are many cements to learn about, not just 2. – bricklaying, rendering, tiling etc.
Finish the building from the top down – concrete construction is very messy.
Blue plastic pipes are for water.
There are several quality of blue plastic piping.
High pressure, thicker walls blue pipes are for water mains.
The thinner blue pipe is for households and drains – learn which is which – they all will fit each other.
Yellow plastic pipes are for electric.
Several single wires are usually run through the yellow pipes.
1.5 for lighting and 2.5 for power – water heaters might need 4.0 or 6.0 size wire.
Labor
Best not to employ locals as a lot are not working because they are inefficient – locals can be jealous, – locals can be slow and lazy.
The best workers seem to be Burmese. 400 baht a day – you supply cold water and a meal each day.
They are usually organized into a team of up to 10 workers, men and women.
A different team for different trades.
They are are experts usually but need careful supervision if there is something unusual about the building.
Check to see that your workers have the correct visa or the jealous locals might report you for employing them.
You should buy and pay for everything yourself.
Steel has the specifications stamped on it.
I had the engineer from the local government office draw the plans including specifications for everything from footings to rooftop – 10,000 baht.
Don't be surprised if your footings are huge and deep.
Take every step to explain exactly what you want to the person who is doing the work – no good telling their boss as it doesn't seem to get handed down.
Form work for concrete is usually hired.
Hired form work should be returned quickly or extra costs will occur.
Buy a lot of steel wire.
Buy two and a half inch flat head nails by the box, not the packet.
Floors that are not on the ground are usually concrete planks with a layer of concrete poured over them.
Concrete planks are ordered to the length you wish and about one foot wide.
Rendering is priced per square meter, measured up after it's finished.
You supply the material and you might need to buy bamboo scaffolding and the ropes and sticks for assembling the scaffolding.
To be continued –