How to Catch a Plane.
Step by step example, fly from Coolangatta to Thailand.
Basic knowledge of how to catch a plane and what to do when you arrive at an airport is important.
This information can be applied to other international airports in Australia.
For this occasion, lets imagine you are on a low-income, the sickness benefits or pension and you have never been on an international flight.
You are leaving Australia and going on a holiday alone or with somebody.
Here are the basics:-
a plan
a Visa card (bank card)
passport
airline ticket
a (small) bag
a note-book
Note:- the following information may not be correct in every detail however any errors should not effect your plan.
You should tell Centrelink you are going overseas and get their OK before you buy airline tickets, then notify them again a few days before you leave, ( notifying them may not be 100% necessary if you are going for a short holiday ) immigration and Centrelink do exchange information.
On most pensions you can leave the country for 3 months. ( This has been changed – I believe it is now only 6 weeks – check with Centrelink )
On an old age pension you can stay overseas for more than 3 months if you have been an Australian citizen for a long time. Different rules for different situations but 3 months is a safe bet. See Government Info
The Plan.
Fly from Coolangatta to Thailand. Look around Asia for up to 6 weeks and fly back to Coolangatta.
You need to buy a ticket from Air Asia or Scoot airlines.
Note: you will also need a ticket out of Thailand or you may not be allow on the plane, if you do not wish to plan your flight home at this stage you might buy any cheap flight out of Thailand, Laos, Malasia and Cambodia are among the choices.
With Air Asia you can fly to Bangkok or to Chiang Mai.
Scoot do not fly to Chiang Mai.
A stopover is where you change planes.
Scoot fly to Bangkok with a stopover in Singapore.
Air Asia fly to Bangkok and Chiang Mai with a stopover in Malaysia at Kuala Lumpur.( KL )
Why this way? – any other way can be much more expensive.
Buy 'through tickets', you will be issued with two boarding passes.
Don't buy 2 tickets, e.g. If you buy a ticket to KL and then a ticket to Bangkok, you will need to go through immigration at KL to get to the airlines main counter so as to check-in for the next flight.
So, buy the one ticket to and from Australia to Thailand, the ticket will have the two flights on it.
At Kuala Lumpur or Singapore do not leave the airport. Do the same for the home flight.
That means do NOT go through the immigration – the immigration means that you are entering the country.
If you enter the country you will need to go back through immigration again and you might miss your plane.
Go to the 'in transit' or 'connecting flights' or 'international departures' area of the airport and catch your next plane.
Don't just follow the crowd off the plane, some of them are going through immigration and some to catch another flight.
You will go through security checks but you should not need to show your passport until you are about the board the plane.
Visa. With an Australian passport you can get your visa when you enter Thailand, (a visa is a stamp in your passport to say you can enter a country for a certain time between certain dates).
If you wish to go on to Cambodia, Laos or Burma  you will get these visas at the border.
For Vietnam you must have a visa before attempting to enter.
If you enter Thailand via the airport you will get about 30 day visa on arrival no cost.
If your visa is running out and you wish to stay in Thailand you will need to go into another country (for at least 10 minutes) and return through a border crossing thus getting a new visa. This can be fun and may cost about $25 to go into the other country.
If you overstay your visa you pay 500 baht a day ( $20 better not to overstay ).
You may enter Thailand by train you get a 2 week visa which can be extended for another 7 days.
Don't plan too far ahead, the whole visa thing is ever-changing but it is not a problem, you simply move on when your time is up, go across the border and back.
If you are found to have overstayed your visa it is not a major crime as long as you pay the fine.
By going to Vientiane in Laos for a few days you can get a $20 Thai visa for 3 months – ( a great trip on the sleeper train at little over the price of one nights accommodation ).
The easy way to get a Thai visa:- Go on-line –  The Royal Thai-Consulate that is closest to you. Best to ring them and make sure all is okay.
Here are the links to the different offices.
The Melbourne website seems to have the complete information needed.
For Vic.
Address: 301/566 St Kilda Rd, Melbourne VIC 3004,
Phone: +61 3 9533 9100
Website – http://www.thaiconsulatemelbourne.com/
Visa application form – view pdf.
For SA and NT.
Address: 144 South Terrace, Adelaide SA 5000,
Phone: +61 8 8231 1333
Website – http://www.royalthaiconsulate.org.au/
Visa application form – view pdf.
For Qld ( and Northern NSW ).
Address: 344 Queen St, Brisbane City QLD 4000,
Phone: +61 7 3493 6464
Website – https://www.royalthaiconsulatebrisbane.com/
Visa application form – view pdf.
For NSW.
Level 8/131 Macquarie St, Sydney NSW 2000,
Phone: +61 2 9241 2542
Website – https://thaiconsulatesydney.org/en/
Visa application form – view pdf.
For ACT.
Address: 111 Empire Circuit, Yarralumla ACT 2600,
Phone: +61 2 6206 0100
Website – http://canberra.thaiembassy.org/
Visa form – download to view.
For WA.
Address: 28/42 Ventnor Ave, West Perth WA 6005,
Phone: +61 8 9226 2288
Website – https://www.thaiconsulateperth.com/visas/
Visa application form – view pdf.  
By using the visa service in your nearest capital city you can stay in Thailand for anything up to 3 months at a time.
If this visa 'thing' is confusing to you, don't worry, when you get to Thailand you will automatically get a 30 day visa.
The Thai immigration officers are not threatening, in fact they like to help tourists.
Bank Visa card.
Check with your bank that you have the right card, ATM machines are everywhere in Asia.
The surcharge is about $10 to draw from an Australian bank on an ATM machine in Thailand.
Those fancy 'travel cards' are no different, they also may have a $10 surcharge.
So you do not withdraw small amounts when in Asia as the surcharge is the same for $1 and $1000.
The money comes out in the currency of that country.
In Thailand the maximum withdraw is 20,000 baht, ( $800 approx. )
Before withdrawing 20,000 baht, make sure that the amount does not exceed your daily limit in your Australian bank.
The ATM machine will often keep your card if you make a faulty transaction 3 times in a row.
If you are comfortable carrying cash, than that is the best way to hold your money.
Now days I rarely use the ATM as the online banking is more efficient.
Add to your note-book your bank phone number and the numbers of your bank card including the 3 numbers on the back, you might wish to write these in code.
Tell your bank you are going overseas and check your daily limit.
Your bank might give you a new card and number when you return for security reasons.
The only time you need Australian money is a couple of $10 notes per person to exchange while at KL airport so you can eat.
Australian coins are of no use while overseas.
Passport.
Getting a passport is like registering a car you have to do everything right.
Many post offices handle passports.
You need to book a time with them to finalize the documents.
Basically you need ID (plenty of it), photos (special photos) and money about $250 https://www.passports.gov.au/
If you wear a shirt with a pocket, a good idea is to sow a pocket inside your shirt, behind the existing pocket and keep your passport there while traveling.
Keep your passport and photos in a zip bag to save it from getting wet from perspiration or rain.
Have 2 good quality, black and white photo copies of the passport profile page and current visa pages.  Keep one set in your wallet and one set in your bag at all times.
Airline Tickets 
Note:- Coolangatta and Gold Coast are the same place (same airport).
You can save $1000 on airline tickets. I often fly return from Chiang Mai to Gold Coast for Au$250 each way.
You need to book weeks ahead so keep going back to the websites to find the bargains.
The bargains are always there but the dates may not suit. You can make dummy bookings every day if you wish to practice using the websites.
First decide when you wish to leave and return. Remember you should leave Thailand within 30 days after flying in.
The exact dates or length of stay cannot be decided until you find the cheapest flights, and the variation in prices might be as much as $1000, so it is worth looking for a bargain and being flexible with your length of stay.
Some flights have 9 hours or more stopover which I find a bit much. Try for about a 3 hour stopover in KL or Singapore.
You may wish to book the return flight later if you intend to roam around Asia.
Tips:- When looking for a suitable flight make sure you are on the actual airline website and not an agents website.
Before actually buying your tickets online, have all your information jotted down, if you are on a computer open notepad and put all your information there so you can copy and paste it into the boxes, (passport number, bank card number, your name, name on bank card, name of bank, your email address, your address, your home phone number, your mobile phone number, etc.) when you go into the final payment for the ticket you only get 9 minutes before a security shutdown might occur.
Read the instructions carefully when it asks you if you want to pick a seat, have insurance, book a room, have extra baggage, catch the airport bus, these can be TRICK QUESTIONS and pressing cancel or ok can mean the opposite to what you think, so be careful there and check the dates, including the year to see that it is what you want.
An in-flight meal is a good deal.
Luggage.
Unless you have special needs, you do not need baggage, just one bag that you carry onto the plane, no more than 7 kilo. (nothing worse than dragging a big backpack around)
When all is done your itinerary (ticket) will be emailed to you for printout.
Suggested list of what to bring
Asia can be hot and humid all year round, day and night. Bring one bag that you can sling over your shoulder. Passport, air tickets, bank visa card, extra photos, copy of passport, note-book, pen ,2 shirts, 1 tee-shirt, 2 trousers, tooth-brush, sandals, toilet paper. Extras can include:- medications (in there labeled box), undies, coat, shorts, camera, laptop, mobile phone, hat, sun glasses, make-up, sandwiches, dried fruit, biscuits. (no liquids or tooth paste) Sometimes it gets cold while in-flight, therefore a pair of sox can be handy and you can put all the clothes on or purchase a comfort kit which has a blanket. Clothes are cheap in asia, bring only what you need, you will have to carry them everywhere. Don't wear smelly joggers. Try to do without sox. Laundries are everywhere.
If you decide to take a lot of shopping back to Australia, suitcases are very cheap here and you can add on baggage to your flight home.
This is what happens at Coolangatta International Airport.
Be at the airport 2 hours before take-off, do not rest till you reach 5, that is the 'gate' and when you are at the correct gate you are where you need to be when they start boarding the plane.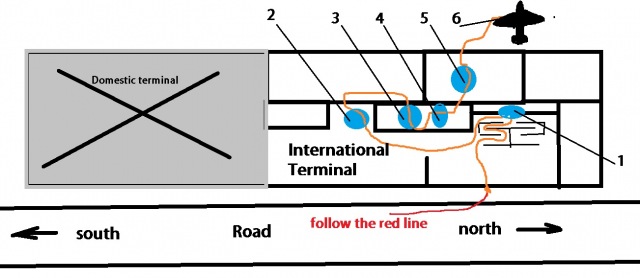 1 Check in and get a piece of paper with your gate number and seat number, this is your boarding pass.
You should also get a boarding pass for the second stage of your flight.
2 Go through security, empty your pockets into tray, put your bag and the tray through the machine (friends can come through to see you off).
3 Look for the gate number as shown on your boarding pass, join the queue and make sure it is the right queue. Follow the queue through security (only passengers can pass here).
4 After security go through immigration, fill out a departure card (if any) and have your passport checked.
5 Wait in the room 'gate number ##'. From here you will enter the plane. You cannot leave this room.
6 Wait for gate to open..
7 Show your passport and boarding pass and board the aircraft.
Note:- 3 – the queue to your gate. can be hard to find first time. Do not hang around the departure lounge, find 3, it may be closed if you are early, do not just join the queue until you know it is the correct queue. Ask an official if confused.
At your stopover airport.
When you arrive at big airports you are over whelmed by the size.
Be prepared to be confused. You will go through security two or more times and into the departure lounge for your next flight.
Here you will find the correct 'gate' for your departure. If you have made a mistake they will re-direct you, many people get confused at stopovers.
The important thing is to get to your next flight 'gate number ##'
At Bangkok airport.
This is the notification from the http://www.thaiconsulatemelbourne.com/faqs/ – 'Australian Passport holders may stay in Thailand as a tourist for up to 30 days if entering by aircraft.
You will follow the other passengers through immigration and customs, which is usually a few smiles and a few stamps into your passport. Your photograph will be taken as you stand at the immigration counter.
Chiang Mai airport. The same as any airport, find your way through immigration and customs.
You are now in Thailand.
Find an ATM machine, press the button for English and withdraw 5,000, 10,000 or 20,000 Baht.
You will receive it in 1,000 Baht notes (approx. AU$1 = 24 Thai Baht  therefore 1000Baht = $43 AU).  Then buy something or ask a bank teller to break up 2,000 Baht, they will give you 100 Baht notes in exchange.
You need 100 baht notes as many businesses do not carry a lot of change.
Be careful
When paying for anything 100 Baht and 1,000 Baht notes can look the same. 50 Baht and 500 Baht also can look the same. (1,000 Baht might be 1 weeks wages to some Thais).
If you are in Chiang Mai airport then all you need to do now is find your way to your accommodation.
See more about arriving in Chiang Mai.
See more about arriving in Bangkok.